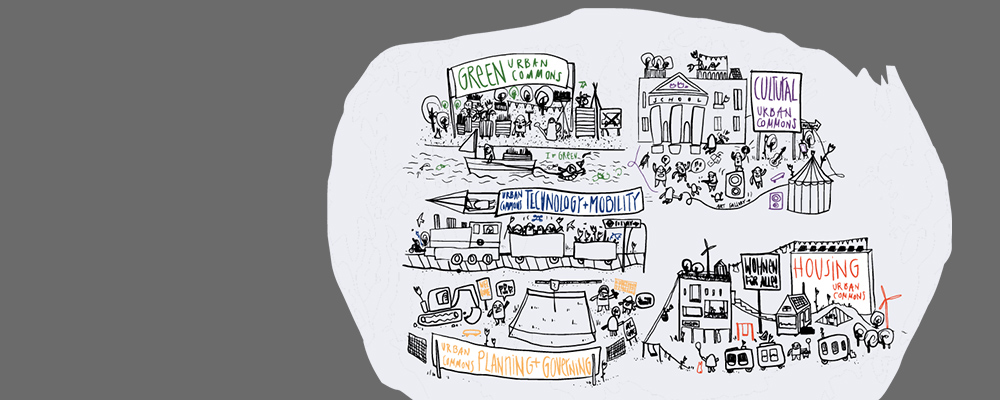 U!R Commons Lecture: Tine De Moor
U!R Commons Lecture Series: 22 March 2021 CET
Prof. Dr. Tine De Moor (Rotterdam School of Management, Erasmus University)
"Introduction to the commons"
We are pleased that Tine De Moor started our lecture series on urban commons with an introductory lecture to the concept and its history. Tine De Moor is professor Social Enterprise & Insutions for Collective Action at the Rotterdam School of Management. She is an expert on commons, its past and present, from the early modern period in Europe until today; its creation, functioning and evolution. Besides De Moor is a councillor in her hometown Ghent (Belgium). Currently there is a renewed interest in these local partnerships and self-organizations based on shared ownership. These 'institutions for collective action' are a kind of correction mechanism for the economic climate of liberalization and privatization. History teaches that citizens are well able to create and manage their own institutions independently of the state and the market.
Tine De Moor traces the history of commons in three waves of cooperation: rural commons, guilds (mid-age til 1800); cooperatives, mutual insurances, labour unions (1800-2000). The third wave is identfied around the turn of the twenty first century when commons experience a revival in the fileds of care/health, culture, food, energy, housing… She refers to social dilema in sharing ressources: short term (individual) gain vs. long term (common) objectives/benefits.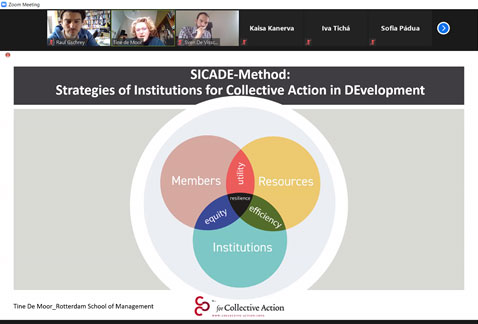 A clear and understandable model on central aspects of commons and processes of commoning was presented, a triad of collective resources, collectivity of members, and institutions. De Moore highlighted resilience as an important factor for the sucess of commons initaitives and defines its central paramenters: utility, equity (in decision making), and efficiency. Three central mechanisms that drive successful commons are identified as: reciprocity, sufficiency, solidarity.
Further information can be found on: www.collective-action.info
Questions were concerned with: influences of the history of commons and current initiatives in the respective countries, the importance of social bonds in commons: meetings rather than sanctions, the ideal size of a commons, whether commons were affected by the colonial era and de-colonialisation, as well as about the complexity in communication and decision making processes in commons.
We are collecting your questions and insights! (Please share with us): What have you learned? What is on your mind? Do you have questions?