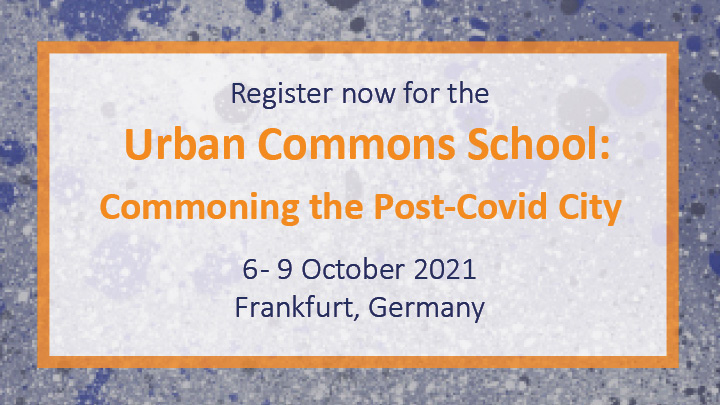 Register now for the Urban Commons School!
What are commons? Why do we need community based cooperatives? How can we shape an urban-living-together in a social, democratic and inclusive way? And create a sustainable future for everyone? These are the questions we seek to discuss and experience with our U!REKA partners at the Urban Commons School.
When? 6 – 9 October 2021
Where? Offenes Haus der Kulturen, Frankfurt, Germany
hosted by Frankfurt University of Applied Sciences
We are working on a diverse program with research panels, student workshops, exhibitions and a varied evening program. In the research panels, experts will give insights on different Urban Commons themes and will work together with students on current issues that arise in these fields. We also want to bring the commons spirit to the event with student initiatives.
Highlights include
Research panels on community and governing, housing and technology, culture and arts
Excursion on commoning architecture in Frankfurt
Lectures on fascinating projects
Dance and music performances
Click here to see the program.
The Urban Commons school is planned as a hybrid event with both visiting international speakers and students and online participation. If the pandemic situation permits, we would be glad to welcome many students and lecturers and other interested persons in Frankfurt.
Please register here by September 15, if you want to participate in Frankfurt:
Registration for the Urban Commons School
For a limited number of students and faculty members from our U!REKA partner universities, Frankfurt University of Applied Sciences will cover accommodation and travel costs. We will contact you regarding this after registration. This offer is not applicable for external guests.
If you want to participate online, please send us an email with your name and institution to ureka(at)io.fra-uas.de